4 Easy Tips to Become a Personal Trainer
Are you ready to become a personal trainer? If you have dreamed of turning your true passion in life into a profession, then it's time to learn the simple tips to become a nationally certified fitness trainer.
Personal trainers are well paid with salaries ranging from the low 40's to over 100k per year depending on the location, who you go to work for and your level of education and experience. Not only is it a well paid profession, but it is among an elite list of low stress, high productivity jobs where you can make a lasting impression on people of all walks of life. Many personal trainers report a high level of job satisfaction as well as flexibility among its top perks.
When you are ready to take those important steps on becoming a personal trainer, here are some specific tips you can follow to streamline the process and become certified as quickly as possible.
Tip #1: Decide on a Certification Company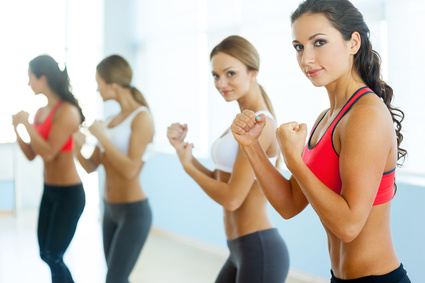 The first tip is to decide on which personal training company you will be using for certification. This can be a bit challenging at first glance because there are a number to choose from.
Look for someone who offers a wide range of courses to choose from. The main reason is because once you become certified you will need to maintain that certification for as long as you stay active in training. If you choose an organization with a wide range of course, then it is easier to establish loyalty and longevity with the company.
Find someone who offers testing online. This is not mandatory, but might make your life a lot simpler. Some personal training programs require that you show up in person on a specific date to a specific location in a larger city. This is not an easy task for someone who doesn't live in a larger metropolitan area or is on a time schedule to become certified. Testing online can have some significant benefits.
Choose a certification that fits your needs. Each certification will vary slightly from how the information is presented and where they place the emphasis on training. However, as long as they are nationally recognized, then you can't go wrong. An article by the Huffington Post offers an accurate assessment when they say it can come down to a personal preference. After visiting a website and reviewing their content, oftentimes a person has a feeling this is the right place to do business.
Tip #2 Decide on a Specialty
This is an important tip as it can take some time to decide. When you become a personal trainer, you will learn about the body and how your joints, bones and muscles create movement. You will learn anatomy, biomechanics, physiology and other important factors that affect how your body performs and how to make it more efficient.
However, there are many ways to inspire and motivate people. You can become a personal trainer to work one on one with people or you can pursue group training where you have a chance to lead a class. You can also take up a specialty course that allows you to focus on one area of personal training. Of course, you can always take the standard personal training course and then expand into some areas of specialization a little later.
Tip #3 Study, Register and Take the Exam
Once you have ordered the materials and can access them, you are ready to start the fun part! Many people discover personal training later in life or after working at a job where they don't feel passion. This is why studying can be interesting and fun. When you are passionate about a topic, it is not work to learn about it. You may even find yourself feeling very energized about the learning process.
As you begin studying, take some breaks to learn about the company's testing process. If it is online, then you will likely get to take the test as soon as you are ready. If the company requires your physical presence, then this is a good time to check out the test schedule and locations and get a date on your calendar. This will also give you some extra motivation to stay on the right track to finish your studies. Register at your earliest convenience.
Now you are ready to take the test! Some organizations will give you instant results so you will know right away if you have passed. Others will take a little longer like a week or two to get results in the mail.
Tip #4 Look for Your Dream Job
Once you have your test results, you can use this information to find a job. Not just any job, but your dream job! Do you want to work for a large gym chain like Gold's or 24 Hour Fitness? Perhaps you prefer a smaller chain or independent facility?
The Bureau of Labor Statistics is a great resource that shows the job outlook, state data and typical work environment for personal trainers. They documented over 275,000 jobs available in 2014 with a positive growth outlook for the future.
You may also choose to be completely independent. You can do so by starting your own facility or training out of your home or training others in their homes.
There are many pros and cons to working for someone else as well as working on your own. There are also lots of ways of structuring your income whether you get an hourly pay, a monthly salary, a percentage of training sessions and any other perks or benefits. You will also need to consider whether you need to cover extra costs like insurance. If you work as an independent contractor, you will need your own insurance. If you are employed, the company will likely carry it on your behalf.
Each of these scenarios will also carry inherit risks and rewards which you should evaluate before you get started.