Kickbox Step Aerobic Certification
Course Includes:
Comprehensive Kickbox Step Aerobic Certification (completely online and free from manuals)
Immediate Scores on all Online Exams
As Many Practice Exams as You Wish are Included
Exam Retakes are Included and Unlimited
Immediate Certification 24 hours a day, 7 days a week
Once You've Passed the Exam, You'll Receive Instant Certification via Email
100% Money Back Guarantee
All Courses Include Free CPR/AED/First Aid Certification!
Save Money - Bundle Packages
Certifications for any course are $225 each
2 certifications for only $265
3 certifications for only $295
Offer Applies to Any of Our Courses!
Discount is reflected in cart.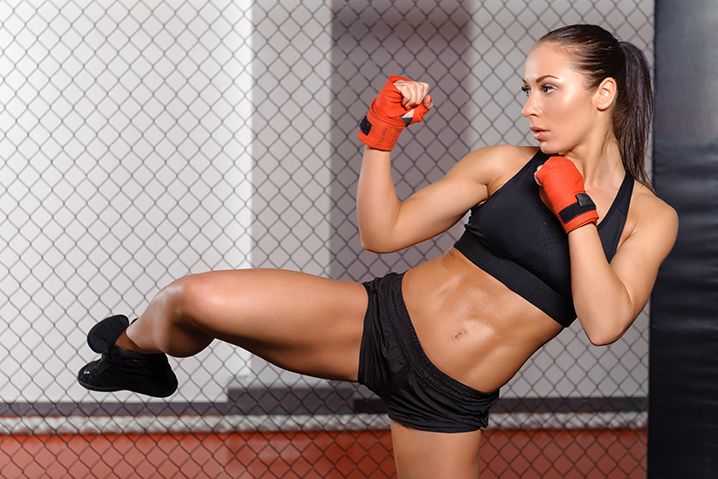 The Tremendous Benefits of Kickboxing in a Workout
Kickboxing serves as a tremendous form of exercise and fitness, as it combines karate with boxing. The results can be impressive as kickboxing is not just a form of exercise, but also a form of self-defense. Additionally, kickboxing is very appealing for people across the age spectrum. Both men and women find kickboxing and kickbox step aerobic to be a fun and effective workout.
Kickboxing Provides an Exceptional Full Body Workout
Virtually every muscle of the body can be used in a kickboxing workout. Those who practice kickboxing know quite well that kickboxing is an excellent way to achieve aerobic fitness, build muscle, improve the reflexes and improve balance and flexibility. For these reasons, kickboxing is very much in demand. Those with Kickbox Step Aerobic Certification can expect to be in demand as well.
Kickbox step aerobic classes build upon group dynamics as participants serve to motivate one another. This is no small distinction as the group aspect of a step kick step aerobic class helps to make it a different and fun form of exercise. Simply stated, kickbox step aerobic classes are engaging and different.
Designed by Certified Fitness Professionals and Experts for Safety and Effectiveness
In our expert and certified fitness professional created Kickbox Step Aerobic Certification Program, you'll learn how to safely and effectively design engaging and fun kickbox step aerobic workouts. These workouts will keep your clients not just engaged, but also coming back again and again for fun, safe and effective workouts.
100% Online Program with 24/7 Instant Certification
The Personal Training Certification Institute's Kickbox Step Aerobic Certification Program provides personal trainers with the education they need to provide this exceptional workout. Our program is 100% online and provides a wealth of benefits such as instant online grading, 24/7 instant certification, 8 continuing education credits, free unlimited practice tests as well as unlimited free exam retakes if necessary and a great deal more.
The need for personal trainers with diversified skill sets is growing rapidly. People want different kinds of workouts. With Kickbox Step Aerobic Certification, you can provide these innovative and high-energy workouts to your clients.