Senior Fitness Instruction Certification
Course Includes:
Comprehensive Senior Fitness Instruction Certification (completely online and free from manuals)
Immediate Scores on all Online Exams
As Many Practice Exams as You Wish are Included
Exam Retakes are Included and Unlimited
Immediate Certification 24 hours a day, 7 days a week
Once You've Passed the Exam, You'll Receive Instant Certification via Email
100% Money Back Guarantee
All Courses Include Free CPR/AED/First Aid Certification!
Save Money - Bundle Packages
Certifications for any course are $225 each
2 certifications for only $265
3 certifications for only $295
Offer Applies to Any of Our Courses!
Discount is reflected in cart.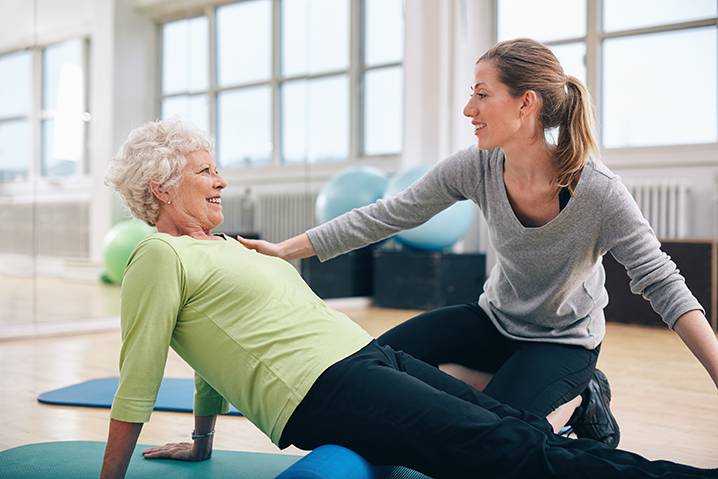 There Is a Tremendous Demand for Senior Personal Fitness Trainers
More than ever before, there is a great need today for senior nutrition, health and fitness experts. Personal trainers who have training specifically geared towards seniors are in high demand.
Millions of Health Conscious Baby Boomers
The Baby Boomer market in growing rapidly, as there are millions over the age of 55 and they have a great interest in staying fit and healthy. Our industry leading Senior Fitness Instruction Certification teaches personal trainers how best to connect with seniors as well as how to modify techniques to fit older adults.
A Certificate Designed to Address the Needs of Seniors
This certificate covers how to improve senior client bone strength, halting muscle deterioration and more.  The end goal is that you will improve the health and vitality for your older clients.
Once you've been certified to instruct seniors, there is the opportunity to reach and assist this aging population through numerous institutions including community centers and hospitals. The information provided in the Personal Training Certification Institute's Senior Fitness Instruction Certification Course is also ideal for physical therapists, health coaches and nurses who are looking to help older patients. This essential training can be put into action to help address conditions related to aging like osteoporosis and arthritis.
Providing You with Industry Leading Certification Benefits Such as a 100% Online Course and 24/7 Instant Certification
Our course is 100% online, and provides 24/7 instant certification and free instant exam grading. When you pass your exam, you'll receive a free and instant email certification email. There is no class time involved in this certificate and you will receive 8 continuing education credits upon course completion. Take our exam whenever you like and as often as necessary until you pass. You can even print out our exam and answer questions at your leisure then enter your answers online for grading.
Assist Seniors to Achieve Greater Health Outcomes
Expert certified fitness professionals created, wrote and approved our Senior Fitness Instruction Certification Course. This high quality, information rich course will give personal trainers invaluable insight into the best techniques for senior training.
Senior Fitness Instruction CertificationRegister and Prepare