Triathlon Certification
Course Includes:
Comprehensive Triathlon Certification (completely online and free from manuals)
Immediate Scores on all Online Exams
As Many Practice Exams as You Wish are Included
Exam Retakes are Included and Unlimited
Immediate Certification 24 hours a day, 7 days a week
Once You've Passed the Exam, You'll Receive Instant Certification via Email
100% Money Back Guarantee
All Courses Include Free CPR/AED/First Aid Certification!
Save Money - Bundle Packages
Certifications for any course are $225 each
2 certifications for only $265
3 certifications for only $295
Offer Applies to Any of Our Courses!
Discount is reflected in cart.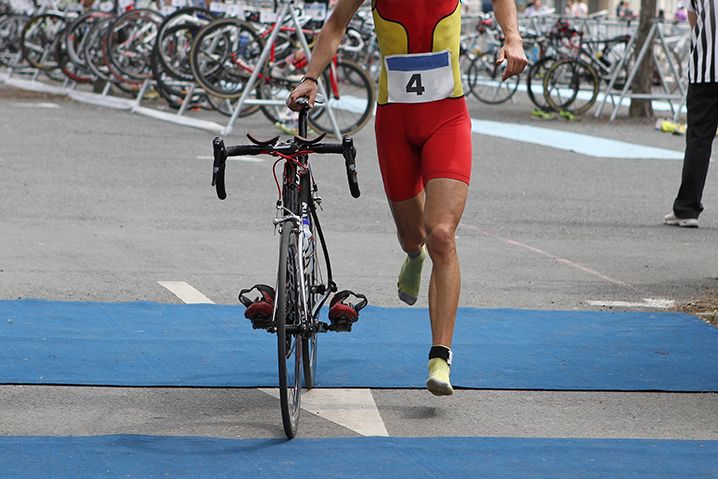 With Triathlon Certification, You'll Help Triathletes Make it to the Finish Line!
The number of people training for and competing in triathlons grows every year. Of course, this also means that the number of prospective clients for personal trainers continues to grow in tandem. With our Triathlon Training Certification Course, you will have a powerful new way to attract and retain clients. Being able to provide triathletes with the specialized training they need to compete will ensure that your services are in high demand.
Guide Clients to Reach Their Goals
With this program, you'll learn how to construct programs to train clients of all fitness levels. We will guide you through how to look at optimal heart rate training zones, the ideal pace training zones for swimmers, the critical role of diet and more. Thanks to our Triathlon Training Certification Course, you'll be able to design an ideal program, one that offers your clients the fitness tools and dietary support they need to achieve their goals.
Importantly, this course also covers the business side of personal training triathletes. You'll learn how to boost your clientele by maximizing your triathlon training certification.
Created, Written and Backed by Certified Fitness Professionals
Our Triathlon Training Certification program is leading the industry. Created and written by certified fitness professionals, this insight program is designed for results. Your clients will indeed boost their triathlon performance levels, and they'll become long-term clients in the process.
100% Online Program Designed for Maximum Results
We know your time is valuable; this is why we've created a triathlon-training program built around your lifestyle. Our course is completely online, and that means absolutely no classroom sessions. Not only is our program 100% online, but it also provides such benefits as 24/7 instant test grading and 24/7 certification. In the event that you do need to retake our exam, you will receive free unlimited retakes. Once you have passed the exam, we instantly send you free email certification.